Posted by JCB Tools UK on 10th May 2023
Are you struggling with stubborn dirt and grime? Do you need a reliable and efficient solution for your toughest cleaning jobs? Look no further than the JCB-PW7532P and JCB-PW15040P Petrol Pressure Washer. Designed to handle the most challenging cleaning tasks with ease, these high-performance, professional quality pressure washers are built to deliver outstanding results every time.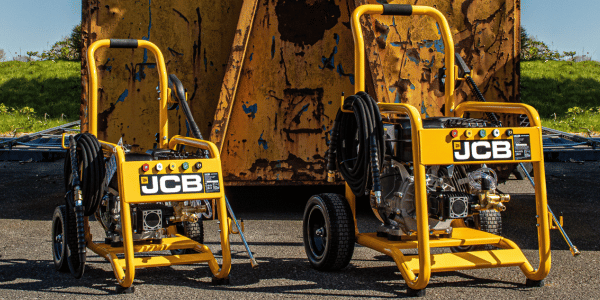 Introducing the JCB-PW7532P and JCB-PW15040P Petrol Pressure Washer: The Ultimate in professional grade jet washing.
Unleash the Power
Equipped with a powerful 7.5 HP (JCB-PW7532P) and 17 HP ( JCB-PW15040P) engine, the JCB Tools petrol power washers ensure you have the necessary force to tackle tough cleaning projects. With low and mid-range torque capabilities, these pressure washers don't require maximum revs, resulting in a quieter and more fuel-efficient operation. The JCB engine's long life is promoted by the engine cut-out switch, protecting against low engine oil levels.
Impressive Cleaning Performance
With a remarkable pressure ratings; 3100 PSI / 213 Bar and a minimum flow rate of 10.7 Litres per minute for the JCB-PW7532P and 4000 psi / 276 bar and a flow rate of 15 Litres per minute for the JCB-PW15040P both modes deliver exceptional cleaning power. Ideal for cleaning driveways and patios, walls, garden furniture and other tough,outdoor cleaning jobs.
With commercial-grade triplex pump, manufactured by the renowned Italian maker Annovi Reverberi (AR), JCB Tools petrol pressure washers feature ceramic pistons and a brass head, ensuring durability and reliability. The built-in unloader and thermal relief valves guarantee efficient operation and long-lasting performance.
Convenience at Your Fingertips
We understand the importance of convenience and ease of use, which is why boht JCB-PW15040P and JCB-PW7532P come with five quick connect nozzles. The JCB-PW15040P also comes with an additional quick connect nozzle and a longer hose. Whether you need a focused 0° jet or a wider 40° spray, changing the nozzle is effortless. The quick connectors eliminate the hassle of threaded connections, allowing you to swiftly switch between attachments and hoses, saving you valuable time and effort.
Designed for Durability and Portability
Both JCB Tools petrol jet wash models feature a robust 32mm tubular steel frame that provides exceptional strength and durability. With soft-grip handles, which can be removed for storage purposes, ensures comfortable handling and reduces the risk of damage during transit. The pressure washer's anti-vibration feet not only offer stability but also minimize noise output, creating a more pleasant working environment.
Manoeuvring the pressure washer is a breeze, thanks to the tough puncture-proof tires that effortlessly navigate various terrains. Unlike air-filled tires, these puncture-proof tires ensure you never experience downtime due to flats, keeping you productive and focused on the task at hand.
Versatile and Reliable
JCB Tools petrol pressure washers are designed to adapt to different water sources. Whether you prefer mains, gravity, or suction fed use, this pressure washer is ready to perform. Even when drawing uphill from a water butt or source.. With detergent capabilities, you can effortlessly switch between cleaning tasks and achieve spotless results every time.
Peace of Mind Guaranteed
We believe in the quality and reliability of our products, which is why the JCB-PW15040P and JCB-PW7532P are backed by a comprehensive warranty. Enjoy the confidence of a 3-year platinum warranty for home use and a 1-year commercial warranty. Our dedicated parts and service support will ensure your pressure washer remains in excellent condition for years to come.
JCB-PW15040P petrol pressure washer offers higher pressure, a higher flow rate, and a larger engine compared to the JCB-PW7532P model. However, both models share high quality features such as a robust frame, anti-vibration feet, puncture-proof tires, and the ability to be powered by different sources.
We hope you've found these tips helpful and remember: if you need any further advice, our team of experts is on-hand to help you, so just get in touch! If you have any questions please visit www.jcb-tools.co.uk/contact-us For expert advice or any questions you may have, you can give us a call on 01646 687 880, fill out the contact form here or drop us a message on any of our social media pages - Facebook, Instagram or Twitter.