Posted by JCB Tools on 27th Jun 2023
BUYING GUIDE | CHOOSING THE RIGHT HAMMER DRILL
AUTHOR JCB TOOLS / CATEGORY BUYING GUIDES / PUBLISHED: JUN-27-2023
Our JCB Tools expert advice on the various factors to consider when choosing your hammer drill for your construction projects, we look at power, speed, chuck size, budget and cordless vs corded hammer drills.
How do hammer Drills Work ?
Unlike a regular drill, a hammer drill combines drilling and hammering actions to provide increased drilling speed, accuracy, and power. This makes it an ideal tool for heavy-duty construction and DIY projects where regular drills simply won't cut it.
Using a hammer drill also reduces the risk of drill bits slipping or getting stuck, as the hammering action helps to keep the bit in place. This means you can work more efficiently and with greater precision, reducing the risk of errors or damage to your workpiece.
If you're planning a construction project that requires drilling into tough materials like concrete, steel, or brick, a hammer drill is an essential tool to have. But with so many options on the market, how do you choose the right one for your needs?
What Power to consider for hammer Drills?
The first factor to consider when choosing a hammer drill is power. The higher the wattage of the motor, the more power the drill will have. If you're planning on drilling into hard materials, look for a hammer drill with a high wattage, like the JCB 1050W SDS corded rotary hammer drill. This will provide the necessary force to get the job done quickly and efficiently.
Another key factor to consider in your hammer drill power, is the SDS Chuck. SDS chucks come in three varieties: SDS-Plus, SDS-Top, and SDS-Max. The SDS-Plus is the most widely used type, designed for moderate drilling needs. SDS-Top, a bigger version of SDS-Plus, caters to heavy-duty applications. For the most challenging drilling tasks, SDS-Max - the largest and most robust SDS chuck - is the perfect choice.
Read more >> What is SDS in Hammer Drill?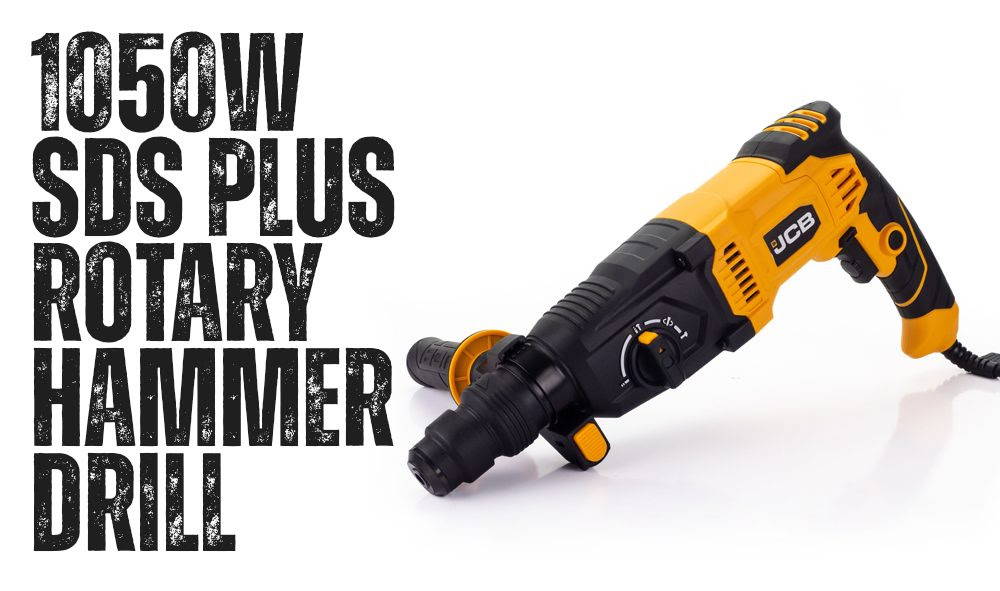 The JCB 1050W SDS corded Rotary Hammer Drill is a powerful tool that can be used for a variety of drilling tasks. It features SDS technology for easy and quick bit changes, and has a robust design for durability.
This 4-mode Hammer Drill has a powerful 1050W motor that can handle drilling concrete, steel, and wood.
Featuring an anti-vibration handle, multi-position handle for safety and comfort, and interchangeable chucks.
It includes pointed chisel, flat chisel, and drill bit accessories, and has 3.5J of hammer impact force.
All backed up with UK support and the JCB 3-Year Warranty
What Speed for aHammer Drill?
Speed is another important factor to consider. Choosing a hammer drill with variable speed settings will allow you to adjust the speed depending on the material you're drilling into. A higher speed is generally better for softer materials, while a slower speed is better for harder materials.
What Chuck Size for a hammer Drills ?
Chuck size is also an important consideration. What is the chuck size of a hammer drill? The chuck is the part of the drill that holds the drill bit in place, and a larger chuck size allows you to use larger drill bits. If you're planning on drilling larger holes, look for a hammer drill with a chuck size of at least 13mm.
CORDED VS CORDLESS hammer Drills ?
Corded and cordless hammer drills are two popular options in the market, each with their own advantages and disadvantages. Corded drills are powered by electricity and have a constant power source, which makes them ideal for heavy-duty tasks that require sustained power. They are generally more powerful than cordless drills and can run for extended periods of time without needing a recharge. Cordless hammer drills, on the other hand, are powered by rechargeable batteries and are highly portable, providing greater freedom of movement when drilling. They are suitable for light to medium-duty tasks and are perfect for use in areas where a power source is not readily available. However, their battery life is limited, which means they may not be suitable for prolonged drilling tasks. Ultimately, choosing between a corded and cordless hammer drill comes down to the type of work you'll be doing, your mobility requirements, and your personal preferences.
hammer Drill Budget Consideration?
Consider your budget. Hammer drills come in a range of prices, from budget options to high-end professional models. Set a budget for yourself and look for a hammer drill that meets your needs within that budget.
Choosing the right hammer drill for your DIY project is crucial for achieving the best results. Factors such as power, speed, chuck size, and budget should all be taken into consideration. And don't forget to consider the benefits of using a hammer drill for your construction projects, including increased speed, accuracy, and power. With the right hammer drill in hand, you'll be able to tackle even the toughest drilling jobs with ease
For a great all rounder why not consider the JCB 1050W Rotary Hammer Drill - great for all applications in drilling concrete, steel and wood.
CONSIDER YOUR DRILLING NEEDS
Consider the nature of your projects and your level of usage when choosing between brushed and brushless drills. If you primarily engage in light to moderate tasks, a brushed drill can suffice. However, if you require maximum power, longer runtime, and durability for heavy-duty or professional applications, a brushless drill is the way to go.
Before making a final decision, research different models and brands of both brushed and brushless drills. Compare their features, specifications, customer reviews, and prices to find the best drill that aligns with your requirements and budget.
In conclusion, the choice between brushed and brushless drills depends on your specific needs, budget, and intended usage. While brushed drills are more affordable and suitable for lighter tasks, brushless drills offer better performance, longer battery life, and reduced maintenance. Take the time to assess your requirements and make an informed decisio
We hope you've found these tips helpful and remember: if you need any further advice, our team of experts is on-hand to help you, so just get in touch! If you have any questions please visit www.jcb-tools.co.uk/contact-us For expert advice or any questions you may have, you can give us a call on 01646 687 880, fill out the contact form here or drop us a message on any of our social media pages - Facebook, Instagram or Twitter.